Many months of sustained effort goes into each and every Galileo launch, shown in this sequence of pictures selected from the four Galileo launches so far. The navigation payloads for each satellite are manufactured at Surrey Satellite Technology Ltd in the UK, which are then integrated to their satellite platforms at OHB in Germany. Next comes the rigorous test campaign to ensure the satellites can operate as planned in space, which takes place at ESA's ESTEC Test Centre in the Netherlands.
The four-stage Soyuz ST-B launcher which deploys each pair of Galileo satellites into medium-Earth orbit is constructed in Russia, then sailed from St. Petersburg to Europe's Spaceport in French Guiana. Once the Galileo satellites have passed testing they are transported by air to French Guiana, so the proper launch campaign can begin. The first three stages of the Soyuz are assembled horizontally, then raised vertically onto the launch pad.
Meanwhile the Galileo satellites are first fuelled for their 12-year working life then attached together on a launch dispenser, after which they are placed on the Soyuz's Fregat upper stage. Finally the complete "upper composite" is encapsulated within the launcher fairing, then hauled to the launch pad to be placed on top of the Soyuz launcher.
Four Galileo launchers of eight satellites have so far been carried out, on 21 October 2011, 12 October 2012, 22 August 2014 and 27 March 2015. The next launch is planned for September, with future launches planned to make use of Ariane 5 as well as Soyuz.
01 – Galileo satellite production line
Two of the first six Galileo Full Operational Capability (FOC) satellites being assembled and prepared for the testing phase at OHB, Bremen, on 19 September 2012.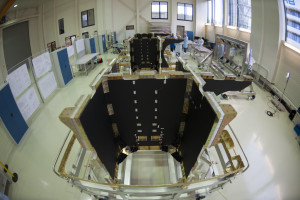 02 – Assembling a Galileo
Engineers working on one of the first six Galileo Full Operational Capability (FOC) satellites being assembled and prepared for the testing phase at OHB, Bremen, on 19 September 2012.
The FOC phase consists of the deployment of the remaining ground and space infrastructure. It includes an intermediate initial operational capability phase with 18 satellites in operation (the four IOV satellites plus 14 others). The full system will consist of a complete satellite constellation, control centres located in Europe and a network of sensor stations and uplink stations installed around the globe.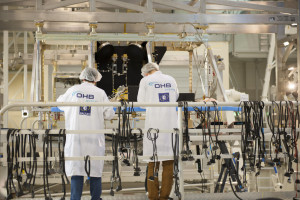 03 – Galileo satellite
A detailed view of a Galileo satellite, manufactured at OHB then delivered to ESA for rigorous testing in simulated space conditions.
The first Galileo Full Operational Capability (FOC) satellite was delivered to ESA's ESTEC technical centre in Noordwijk, the Netherlands on 15 May 2013.
All Galileo satellites are tested in the ESTEC Test Centre in the Netherlands, a unique facility for Europe with all the facilities needed to validate a satellite for launch under one roof.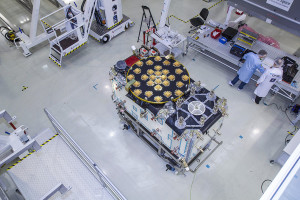 04 – Galileo at ESTEC Test Centre
The second Galileo Full Operational Capability satellite undergoing testing on the WM50/6 mass properties test system at the ESTEC Test Centre in August 2013, measuring its centre of gravity and moment and inertia.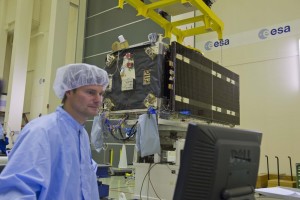 05 – Galileo slid out of test chamber
ESTEC Test Centre engineers examine the Galileo Full Operational Capability satellite after it has been slid out of the Phenix test chamber on 29 November 2013, following a five-week thermal–vacuum test. The box within the Phenix is the "thermal tent", used to reproduce the extreme temperatures of space.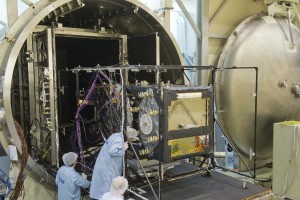 06 – Shipping Soyuz launchers
A pair of Soyuz St-B launchers loaded aboard the MN Colibri roll-on/roll-off cargo shipon 7 November 2009, departing from the Russian port city of St. Petersburg for a two-week, 5,119-nautical mile Atlantic Ocean crossing to South America. After the sea-going vessel's arrival at Pariacabo port near Kourou, the Soyuz vehicles will be moved by road to the Spaceport, where they are to be available for the startup of missions with the Russian launcher from French Guiana.
For its maiden ocean voyage with Soyuz, the sea-going ship is loaded with a total of some 50 containers. Each three-stage launch vehicle is divided into 10 containers, which carry the four first-stage strap-on boosters, its Block A core stage (which is transported in two segments), the Block I third stage, the Fregat upper stage and the Soyuz 2-1a's ST-type payload fairing (shipped in two separate half-shells).
Accompanying the two Soyuz vehicles on the MN Colibri is a quantity of refined kerosene propellant for the launcher's strap-on boosters, as well as its Block A and Block I stages; along with UDMH, N2O4 and hydrazine for its Fregat upper stage. Also being transported on this transatlantic crossing is a functional model of Fregat, used for fueling tests in French Guiana.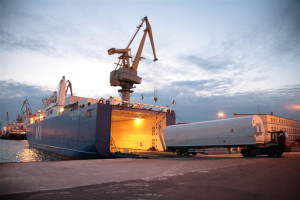 07 – Soyuz segments arriving in French Guiana
Soyuz ST-B segments being unloaded in French Guiana, in preparation for 2012's Galileo launch.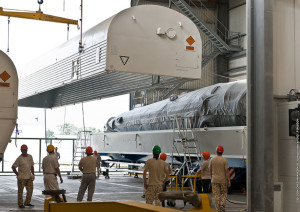 08 – Assembling Soyuz
The Soyuz ST-B launcher for the 27 March 2015 launch of two European Galileo navigation satellites taking shape at Europe's Spaceport in French Guiana.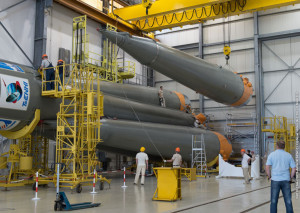 09 – Galileo satellite unloaded
One of two Galileo satellites, safely in its protective container, being unloaded from their Air France Boeing 747 at Cayenne–Félix Eboué Airport in French Guiana on Thursday 5 February 2015.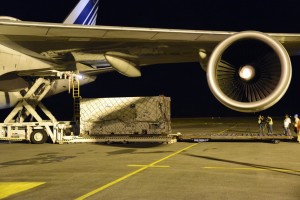 10 – Galileo prepared for fuelling
Fuelling of Europe's latest pair of Galileo satellites. The eighth Galileo satellite is seen here being prepared to receive its propellant load in the S5A fuelling and integration hall of Europe's Spaceport in French Guiana. After its 'sister' (the seventh satellite) co-passenger underwent this same process, the two were integrated side-by-side on a dispenser for their shared ride aboard Soyuz on March 27 2015.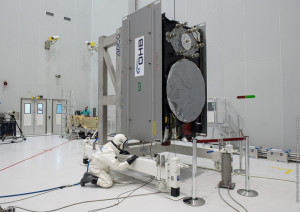 11 – Galileos on payload dispenser
Two Galileo navigation satellites integrated on their payload dispenser system at Europe's Spaceport in Kourou, French Guiana.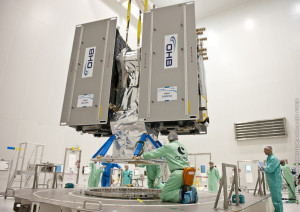 12 – Galileos on Fregat upper stage
On 10 October, the combined Galileo IOV satellites plus their supporting dispenser were mated to the Fregat-MT upper stage and encapsulated in the protective payload fairing that will transport them into their final 23 222 km orbit. These satellites were launched on 21 October 2011, commencing the Galileo constellation.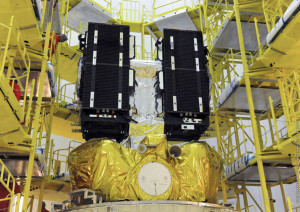 13 – Galileos enclosed in fairing
The seventh and eighth Galileo satellites attached to their dispenser atop the Fregat upper stage being enclosed within their Soyuz launcher fairing on Friday, 20 March 2015.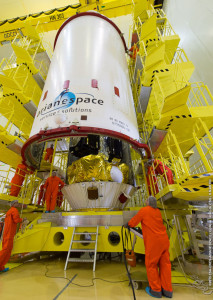 14 – Soyuz raised onto pad
Soyuz VS03, the third Soyuz ST-B flight from Europe's Spaceport in French Guiana, was transferred to the launch zone on 8 October 2012. The vehicle was rolled out horizontally on its erector from the preparation building to the launch zone and then raised into the vertical position. Soyuz VS03 lifted off on 12 October 2012. The launcher carried two satellites of Europe's Galileo navigation system into orbit, completing the mini-constellation of four satellites destined to validate the system design.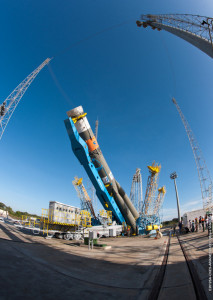 15 – Upper composite headed to launch zone
The upper composite composite (comprising the two satellites, their dispenser and upper stage plus the launch fairing surrounding them) being transported to the Soyuz launch zone at Europe's Spaceport in French Guiana on the afternoon of 19 August 2014.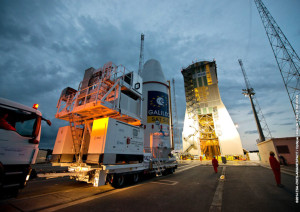 16 – Upper composite being hoisted
The upper composite being hoisted up to the top of the mobile gantry to be attached to its Soyuz launcher on the evening of 19 August 2014.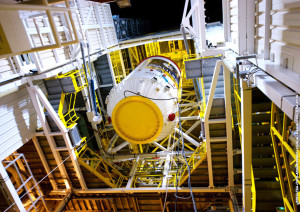 17 – Upper composite next to Soyuz
The launch fairing containing the two Galileo satellites and their dispenser atop the Fregat upper stage next to the top of the three-stage Soyuz launcher in the mobile gantry at the launch zone, about to be attached together. Integration occurred on the evening of 19 August 2014.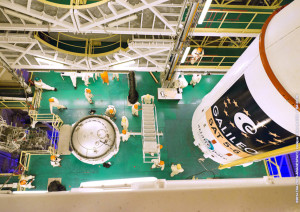 18 – Galileo satellites placed on Soyuz
The upper composite, containing the seventh and eighth Galileo satellites attached to their dispenser atop the Fregat upper stage inside the launcher fairing was hauled up the mobile launch tower then attached to the first three stages of its Soyuz ST-B launcher on 24 March 2015.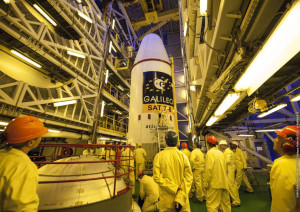 19 – Galileo's Soyuz liftoff
Liftoff of Soyuz ST-B flight VS11 carrying Galileo satellites 7 and 8, 27 March 2015 at 22:46 GMT, from Europe's Spaceport in French Guiana.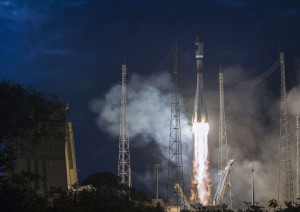 20 – Galileo on the way