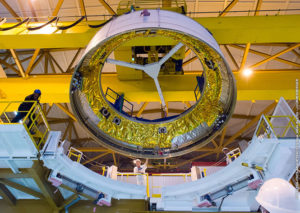 The initial Ariane 5 to loft four global positioning satellites for Europe's Galileo navigation system has begun its build-up at the Spaceport in French Guiana for a milestone Arianespace mission in November.
This launcher is an Ariane 5 ES version that began the integration process begining of October, with the cryogenic core stage's positioning over a mobile launch pad, followed by integration of the vehicle's two solid propellant boosters.
Designated as Flight VA233 in Arianespace's numbering system, the mission's Ariane 5 was assembled inside the Spaceport's Launcher Integration Building. During activity in the Spaceport's Launcher Integration Building, the heavy-lift vehicle for Arianespace Flight VA233 underwent the assembly process that began by mating Ariane 5's two solid propellant strap-on boosters with the main cryogenic stage.
The next step was integration of the launcher's vehicle equipment bay as well as the installation of Ariane 5's EPS storable propellant stage.

From launcher integration to final assembly
After completion of verifications and systems checkout by production prime contractor Airbus Safran Launchers, the Ariane 5 will be moved to the Spaceport's Final Assembly Building — where Arianespace takes authority for payload integration and launch.
The EPS storable propellant upper stage is powered by a re-ignitable engine that operates with MMH and N2O4 propellants. It differentiates Flight VA233's launcher from the Ariane 5 ECA versions, which have a cryogenic upper stage and are typically used on Arianespace missions to geostationary transfer orbits with telecommunications satellites.
For Flight VA233, the Ariane 5 ES will carry the quartet of Galileo satellites (weighing 738 kg. each) and their 447 kg. dispenser system to medium-Earth orbit, for deployment at an altitude of approximately 23,222 km.
Ariane 5's first use to deploy Galileo satellites
The upcoming Ariane 5 launch will mark the initial utilization of Ariane 5 in deploying Galileo constellation satellites. Flight VA233 will continue Arianespace's support of the global positioning satellite system, following seven missions performed with the company's medium-lift Soyuz that carries a pair of Galileo spacecraft on each flight. Seven Soyuz missions have delivered a total of 14 navigation satellites into orbit since 2011.
Galileo is a key effort for Europe, offering highly accurate positioning with great precision and reliability via a civil global satellite navigation system. The program is funded and owned by the European Union, with overall responsibility for management and implementation held by the European Commission. Design and development of the new generation of systems and infrastructure has been assigned to the European Space Agency.
The spacecraft to be launched on Flight VA233 were built by OHB System in Bremen, Germany, with their navigation payloads provided by Surrey Satellite Technology in the United Kingdom. Airbus Defence and Space developed the dispenser system that will carry and deploy the satellites from Ariane 5.