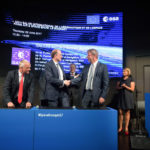 Europe's Galileo navigation constellation will gain an additional eight satellites, bringing it to completion, thanks to a contract signed at the Paris Air and Space Show.
The contract to build and test another eight Galileo satellites was awarded to a consortium led by prime contractor OHB, with Surrey Satellite Technology Ltd overseeing their navigation platforms.
This is the third such satellite signing: the first four In Orbit Validation satellites were built by a consortium led by Airbus Defence and Space, while production of the next 22 Full Operational Capability (FOC) satellites was led by OHB.
These new batch satellites are based on the already qualified design of the previous Galileo FOC satellites, except for changes on the unit level – such as improvements based on lessons learned and reacting to obsolescence of parts.
ESA's Director of the Galileo Programme and Navigation-related Activities, Paul Verhoef, signed the contract with the CEO of OHB, Marco Fuchs and OHB Navigation Director Wolfgang Paetsch, in the presence of ESA Director General Jan Woerner and the EC's Deputy Director-General for Internal Market, Industry, Entrepreneurship and SMEs, Pierre Delsaux.
"This procurement from OHB will enable the completion of the Galileo constellation and have reserves both in-orbit and on-ground," said Director Verhoef. "This signing delivers the necessary infrastructure robustness that is essential for the provision of Galileo services worldwide."
ESA signed the contract on behalf of the EU represented by the European Commission – Galileo's owner. The Commission and ESA have a delegation agreement by which ESA acts as design and procurement agent on behalf of the Commission.
These new eight satellites will provide the constellation with in-orbit and on-ground spares. ESA and the Commission are also in the process of developing an improved Galileo Second Generation for the next decade.
Galileo is now providing three service types, the availability of which will continue to be improved.