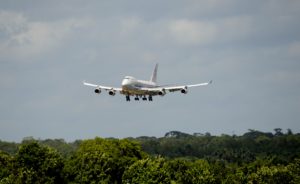 A transatlantic flight delivered four Galileo satellites to French Guiana on Tuesday 6th September, in preparation for a shared launch this November by Ariane 5, the first for Europe's satnav constellation.
The satellites' odyssey began the previous day, when they left ESA's technical centre in Noordwijk, the Netherlands, where every Galileo satellite is tested.
Each satellite was placed into protective containers before leaving the cleanroom environment of the test facility. These containers incorporate sophisticated environmental control, satellite monitoring systems and shock absorbers.
They were then driven by separate lorries to Luxembourg Findel Airport. On Tuesday morning they were flown by 747 aircraft to Cayenne–Félix Eboué Airport in French Guiana, touching down around 10:30 local time.
They were taken to the S1A payload preparation building of the Guiana Space Centre, to be unboxed the following day.
The building will remain their home as their launch campaign begins. The first activity is a 'fit check' with the dispenser that will release them into orbit from the rocket's upper stage.
The modified Ariane 5 that will carry the four Galileos into orbit arrived in French Guiana a fortnight ago (http://galileognss.eu/galileos-ariane-5-arrives-at-europes-spaceport/).
In development since 2012, this new variant has evolved from the Ariane 5 used to place ESA's 20 tonne supply ferry for the International Space Station into low orbit.
This new version will carry a lighter payload, four fully fuelled 738 kg Galileo satellites plus their dispenser, but must take it up to the much higher altitude of 23 222 km.
November's launch is a major step up for Galileo. The 14 Galileo satellites already in orbit have been launched two at a time, by Soyuz from French Guiana.
Having 18 satellites in orbit should enable initial Galileo operational services to begin, a decision that will be taken by the European Commission, the system's owner.
Two more Galileo launches by Ariane 5 are due in the next two years.
About Galileo
Galileo is Europe's civil global satellite navigation system. It will allow users worldwide to know their exact position in time and space with great precision and reliability. Once complete, the system will consist of 24 operational satellites and the ground infrastructure for the provision of positioning, navigation and timing services.
The Galileo programme is funded and owned by the EU. The European Commission has the overall responsibility for the programme, managing and overseeing the implementation of all programme activities.
Galileo's deployment, the design and development of the new generation of systems and the technical development of infrastructure are entrusted to ESA. The definition, development and in-orbit validation phases were carried out by ESA, and co-funded by ESA and the European Commission.
The European Global Navigation Satellite System Agency (GSA) is ensuring the uptake and security of Galileo. Galileo operations and provision of services will be entrusted to the GSA from 2017.