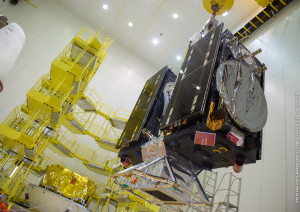 Europe's ninth and tenth Galileo satellites have been secured on top of their Fregat upper stage in preparation for launch next week.
Galileo 9 and 10 are due for launch atop a Soyuz rocket at 02:08 GMT on 11 September (04:08 CEST; 23:08 local time, 10 September) from Europe's Spaceport in French Guiana.
Having been attached to their carrier last week, the pair of fully fuelled satellites was carefully lowered onto the waiting upper stage.
This latest part of the launch campaign took place on Wednesday, 2 September in the 3SB preparation building of the Guiana Space Centre.
The following day was devoted to functional checks and inspections, preparing the Galileos plus Fregat to be encapsulated within the halves of their Soyuz rocket fairing on Friday, the last time these latest Galileo satellites will be seen by human eyes.
This complete "upper composite" will then be transported to the launch site so that it can be attached vertically to the first three stages of the Soyuz ST-B.
As much a spacecraft as a launcher stage, the reignitable Fregat will take the Galileos the bulk of the way to their designated medium-altitude orbit once the first three stages achieve low orbit, some 9 min 24 sec after launch.
A pair of Fregat firings will be separated by a 3 hr 13 min coast up to their target 23 222 km orbital altitude and 57.394° inclination.
This latest Galileo campaign began with the arrival of the satellites in French Guiana on 24 July.
Two further satellites are scheduled for launch by the end of this year. One is under test at ESA's ESTEC technical centre in Noordwijk, the Netherlands, while the other has already completed its checks and is awaiting transportation to Kourou in the second half of October.
In addition, the first satellite of the following batch (Galileo 13) has arrived at ESTEC and is undergoing its thermal–vacuum test. The next will arrive by mid-September.