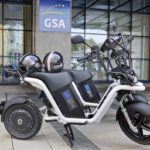 Traffic jams and, more specifically, the pollution, noise and congestion they cause, are one of the greatest mobility challenges that today's cities face. To overcome this problem, cities across the world are looking at innovative and environmentally sustainable urban mobility solutions that lower CO2 emissions and ease traffic congestion.
In Barcelona, this challenge is being answered in part by MOTIT – a unique, electric scooter sharing service that lets users pick up and drop off vehicles wherever and whenever they want. After reserving a scooter via their smartphone, the user receives a notification showing the location of the assigned vehicle.
Also read: GNSS-enabled bicycle
Although this feature of being able to drop off the scooter wherever you want (as opposed to using a fixed docking station) is popular, it also creates new problems – namely, finding the reserved scooter. This is because the scooter's embedded GPS receiver lacks the robust positioning performance required to fully function in the narrow streets and dense urban canyons of Barcelona. As a result, scooters are shown to be available when they are not and MOTIT users looking to pick up their ride are sent in the wrong direction.
As MOTIT was planning to expand their service to other cities in both Europe and Latin America, they knew they needed to come up with a solution to their positioning problem.
This is where the GSA came in as part of their mission.
Positioning European companies to succeed
G-MOTIT received grant through Horizon 2020 framework programme for research and innovation. The project's objective is to design and develop a Galileo-enabled device that significantly improves vehicle positioning, availability and reliability for such vehicle sharing initiatives as MOTIT.
As is made clear in the recently published GSA GNSS Market Report, the business opportunities within the GNSS market are huge and growing. To ensure European companies are well-positioned to take full advantage of these opportunities, the GSA is committed to providing support through different tools: e.g. Horizon 2020, Fundamental Elements, Aviation Grants.
"Galileo, when used in combination with GPS and other GNSS systems, provides increased availability of satellites and new signals," says G-MOTIT Project Coordinator Martí Jofre. "All in all, its use has resulted in improved availability, accuracy and reliability and has given us the precise positioning we need to take MOTIT to the next level."
Growing potential
The G-MOTIT project also aims to support the commercialisation and expansion of the service. Along with the market insight and support of the GSA, the project has equipped 20 scooters with its Galileo-enabled receiver, providing users the improved positioning they need to quickly and accurately reserve and find their scooter.
Currently, the G-MOTIT technology is being tested with other mobility services, including electric bike and vehicle sharing initiatives.