The 2014 edition of the European Satellite Navigation Competition (ESNC) received a record number of entries and the European GNSS Agency (GSA) Special Prize was the most popular category receiving a total of 152 submissions. The GSA 2014 special prize went to elecnor deimos/Deimos Space for their Galileo for ARA project.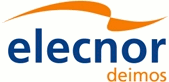 Giovanni Vecchione and Antonio Fernandez of Deimos Space received their prize, worth up to € 40 000, from GSA Head of Communications Donna Reay during the official Awards Ceremony for ESNC 2014, held on the evening of October 23 in Berlin, Germany.
The concept of the wining idea, "Galileo for ARA", is to adapt the ARA platform to individual needs (the ARA project is an initiative by Google to develop modular phones for users who need maximum flexibility and personalisation at minimal cost). Such phones will be very cheap compared to current smartphones and reduce e-waste over the long term.
Galileo for ARA is a solution for demanding smartphone users looking to use one of Galileo's most important features, the E5 signal. The idea is to develop an E5 Galileo receiver module for the ARA platform. While most mass market smartphones will still be focused on E1, the availability of high end phones offering enhanced accuracy will be appealing for many users.
In addition another module is foreseen, implementing an external antenna module interface that could be used with existing phones GNSS components and providing better performance to a specialised GNSS unit.
The ARA phone will offer these components to those who need better precision (centimetre-level accuracy) in positioning, a multipath-resistant solution designed for pedestrians and urban environments. Much has already been achieved using smartphones; now it is time to create new possibilities for the development of applications that require high accuracy.
The design of the modules will be done by Deimos-Space using the algorithms and expertise developed during their involvement with GSA managed FP7 research projects GRIP and ENCORE.