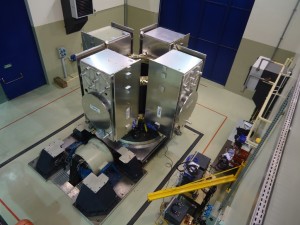 Following rigorous testing in France and Germany, a new type of dispenser designed to carry four navigation satellites into orbit at once is now in French Guiana, in place for Galileo's first Ariane 5 launch later this year.
The dispenser is an essential element of launch success, with a double role to play. Firstly it must hold the quartet of satellites securely in place during the stresses of liftoff, and then the nearly four-hour long flight to medium-Earth orbit.
Then, once the Ariane 5 EPS upper stage reaches its target 23 222 km altitude, the dispenser has to release the four Galileo satellites smoothly using a pyrotechnic release system triggered by separate igniters, each one firing half a second after the other.
The separated satellites are then pushed away from the dispenser in separate directions using a spring-based distancing system.
The 447 kg dispenser, designed by Airbus Defence and Space, must support a satellite mass of 738 kg each, nearly three tonnes in all.
Made from a combination of metal and composite materials for maximum stiffness, the dispenser has undergone very comprehensive testing at Airbus Defence and Space near Bordeaux, France, and the IABG testing centre in Ottobrunn, Germany, using both Galileo engineering models and an actual flight satellite, including fit, shock and separation testing.
The test campaign met all objectives, confirming the behaviour performs as predicted, after which the dispenser was shipped to Europe's Spaceport in French Guiana.
Galileo's Ariane 5
In the autumn of this year, four Galileos will be launched together for the very first time, on a specially customised launcher, called the Ariane 5 ES Galileo.
In development since 2012, this new launcher variant has evolved from the Ariane 5 ES (Evolution Storable), used to place ESA's 20 000 kg ATV supply vehicle into low-Earth orbit.
This launder has to carry a lower mass payload, four fully fuelled 738 kg Galileo satellites plus their supporting dispenser, but needs to take it up to the much higher altitude of medium-Earth orbit, approximately 23 222 km up.
The target orbit is actually 300 km below the Galileo constellation's final working altitude: this leaves the Ariane's EPS upper stage in a stable "graveyard orbit", while the quartet of Galileos manoeuvre themselves up to their final set height.
Once the Ariane 5 ES Galileo flight is complete, there should be 18 Galileo satellites in orbit.