The European Commission has published the first version of the Galileo Open Service Signal-In-Space Operational Status Definition (OS SIS OSD) Document.
Download the OS SIS OSD Document.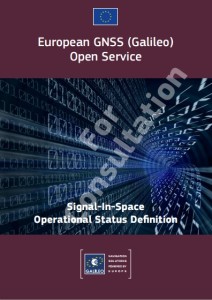 The document is divided into three sections:
A comprehensive guide on how the status of the Galileo SIS is disseminated by the signal itself through specific data within the Navigation Message
Important information on the use of navigation parameters, recalling the reference for the ionospheric model used by Galileo
Additional information on the validity of navigation parameters.
The processing of Galileo Open Service signals and the use of Galileo Open Service relies on the publication of four Galileo documents. The first two documents are already published and consist of the Galileo OS Signal-In-Space Interface Control Document (OS SIS ICD, Issue 1.1) and the Galileo Ionospheric Correction Algorithm for Galileo Single Frequency Users, Issue 1.1. The third document is the Galileo OS Signal-In-Space Operational Status Definition. The fourth document, to be published in the coming months, will be the Galileo OS Service Definition Document (OS SDD).