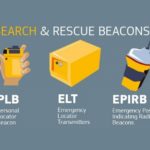 On 6 April, the GNSS world marks Beacon Awareness Day (406 Day), a day intended to remind Search and Rescue 406MHz beacon owners to test their beacons, check their batteries and update their Cospas-Sarsat or National Oceanic and Atmospheric Administration (NOAA) registration. Started in 2013 by US beacon manufacturer ACR Electronics, the day is also an opportunity to raise awareness on the benefits and responsibilities of owning such 406 MHz beacons as Emergency Position Indicating Radio Beacons (EPIRBs) and Personal Locator Beacons (PLBs). Perhaps most importantly, 406 Day is a chance to share the stories of those whose lives were 'saved by the beacon' and to encourage others to #getabeacon.
Register your beacon with the COSPAS-SARSAT database
In conjunction with 406 Day, the GSA is officially launching its Galileo's SAR service. The Galileo SAR service is Europe's contribution to the upgrade of the international satellite-based COSPAS-SARSAT system. Within the Galileo/SAR service coverage area, the service will be available at sea, in the mountains, across the desert and in the air and available to help SAR operators respond to a distress signal faster and more efficiently.
Did you know?
Six kilos – the weight of the SAR transponder on a Galileo satellite – can make the difference between life and death
Over the past three years, satellites helped save an average of six lives every day
Galileo satellites relay ANY distress call coming from a SARSAT-enabled beacon without costs or need for a subscription
Helping to save lives
The Galileo SAR service is comprised of two components: an automatic forward link distress alert and a unique return link alert (available end of 2018) that informs the sender that their message has been received. This combination, along with the increased positioning accuracy provided by Galileo, has reduced the time it takes to detect a person lost at sea or in the mountains from three hours to just 10 minutes after the distress beacon is activated. Furthermore, the localisation of the distress beacon has improved from 10 km to less than 5 km.
The net result of the improvements offered by the Galileo SAR service is that more lives are saved. In fact, in January 2017, the Galileo SAR service helped rescue eight people within the French MCC zone alone. "Not only does the improved capacity offered by the Galileo SAR service help save lives, thanks to the reduced time to acquire a signal, it also makes Search and Rescue operations – more efficient for emergency responders," says GSA Executive Director Carlo des Dorides. "Thus, it is our pleasure to take part in the 406 Day initiatives to raise awareness of the Galileo SAR service and to help all operators support and promote the use of 406 MHz beacons."