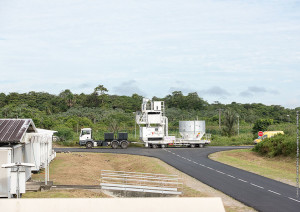 Fregat fueled
Arianespace's new Spaceport processing facility has fueled another Fregat stage. This upper stage for the medium-lift Soyuz launcher will be used for the May 24 flight from French Guiana with two European Galileo navigation satellites.
Named the FCube (Fregat Fueling Facility), the purpose-built installation is utilized to "top off" Fregat upper stages during Soyuz launch campaigns at the Spaceport. In service since last year, the FCube supports Arianespace's sustained launch pace, giving the company greater flexibility in managing its mission manifest, while also increasing launch capacity with Soyuz and its other launch vehicle family members: the heavy-lift Ariane 5 and lightweight Vega.
Fregat upper stages are produced by NPO Lavochkin, a company that is part of the Soyuz launcher's Russian industrial team. Fregat serves as an autonomous upper stage enabling Soyuz to perform a full range of missions. During its processing in the FCube facility, Fregat was fueled with UDMH (unsymmetrical dimethyl hydrazine) and NTO (nitrogen tetroxide) storable propellants that are loaded into spherical tanks.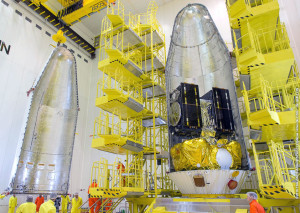 Soyuz' "upper composite" ready
After its fueling in the FCube, the Fregat was transferred by road to the Spaceport's S3B clean room. At this facility, the payload assembly process was completed on May 18.
These preparations involved encapsulation of the two Galileo spacecraft and their dispenser system, which had been installed atop Soyuz' Fregat upper stage the previous day, completing the so called "upper composite". The encapsulation was carried out using a two-piece Soyuz-ST payload fairing, and was followed by the addition of mission logos.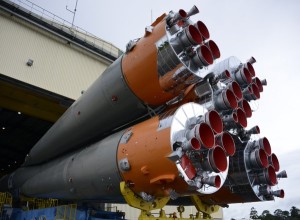 Soyuz reaches the launch zone
In procedures that have become familiar at the Spaceport, Soyuz was moved via a transport/erector rail car in a horizontal-transfer process of around 700 meters from the MIK launcher assembly facility to the ELS launch zone. Once over the launch pad, the vehicle was erected into a vertical orientation, where it is suspended in place by four large support arms.
Following this step's completion, the mobile gantry was moved into position over the launcher – providing protection for the upcoming installation of Soyuz' "upper composite," which consists of the Galileo spacecraft and their dispenser system, plus the Fregat upper stage and payload fairing.
For Arianespace's May 24 mission, Fregat will perform a first burn, followed by a 3-plus hour ballistic phase. The Fregat will ignite its engine again to reach the circular orbit for separation of the two Galileo spacecraft, which will enter Orbital Plane A of the navigation satellite constellation.
Each Galileo spacecraft weighs about 715 kilograms with a full tank of propellant. Scheduled for liftoff on May 24 at precisely 5:48:43 a.m. local time in French Guiana, Soyuz will carry out a nearly 3-hr., 48-min. mission from launch to separation of the two passengers.