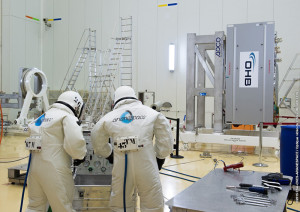 The two European Galileo navigation satellites for Arianespace's next mission from French Guiana have been fueled at the Spaceport, readying them for integration with their Soyuz launcher.
These spacecraft were "topped off" during activity this week at the Spaceport's S3B payload preparation facility, further advancing preparations for the September 10 mission, which is designated Flight VS12 in Arianespace's launcher family numbering system, signifying the 12th liftoff of the medium-lift Soyuz vehicle from French Guiana.
Flight VS12's satellites are the fifth and sixth in Galileo's full operational capability (FOC) phase. They were produced by OHB System, with Surrey Satellite Technology Ltd. supplying their navigation payloads that will generate precise positioning measurements and services around the world.
The September 10 mission will be the fifth Soyuz flight with Galileo satellites performed by Arianespace from French Guiana – a series that began with the Russian-built launcher's inaugural liftoff at the Spaceport in October 2011.
At full deployment, the Galileo program will consist of 30 satellites (comprising operational spacecraft and reserves) situated on three circular medium Earth orbits at some 23,200 km. altitude inclined 56 deg. to the equator. This constellation and associated ground infrastructure will provide high-quality positioning, navigation and timing services under civilian control, and be interoperable with the U.S. GPS and Russian Glonass global positioning systems.
Galileo's FOC phase is managed and funded by the European Commission, with the European Space Agency delegated as the design and procurement agent on the Commission's behalf.
Arianespace Flight VS12 will be the company's eighth mission this year, following the successful launches in 2015 of four heavy-lift Ariane 5s, two lightweight Vega vehicles, and one Soyuz.
Launch window for Soyuz Flight VS12:
UTC: At 2:08:10 a.m. on September 11, 2015