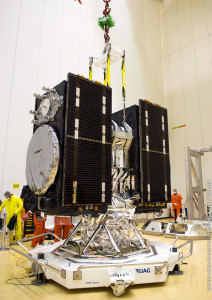 This is a summary of the main milestones achieved in Kourou in the last days, before declaring the green light in the Launch Readiness Review.
December 10
Installation of Galileo 11 and 12 and their dispenser system atop Soyuz Fregat occurred in the European Spaceport's S3B clean room facility. The dispenser will deploy the satellites by firing a pyrotechnic system for separation in opposite directions at the orbital insertion point.
Fregat operates as Soyuz' fourth stage, providing an autonomous and flexible propulsion system. Built by Russia's NPO Lavochkin, it will perform two propulsion burns during the Galileo mission with the upper stage designed to be restarted up to 20 times in flight.
December 14
Rollout and vertical positioning of the Soyuz three-stage vehicle. Soyuz was moved via a transport/erector rail car in a horizontal-transfer process from the MIK launcher assembly facility to the Soyuz ELS launch complex. Once on the launch pad, Soyuz was erected to the vertical orientation, where it was suspended in place by four large support arms, followed by the transport/erector rail car's withdrawal. Read more…