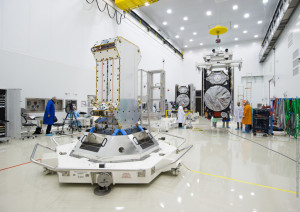 The next two spacecraft to join Europe's Galileo global satellite navigation system have made their initial contact with launcher hardware at the Spaceport in French Guiana, continuing the preparations for their liftoff on an Arianespace Soyuz vehicle in May.
During activity in the Spaceport's S1A clean room facility, both spacecraft completed the initial "fit check" process, in which they were installed on the dispenser system that will deploy them in orbit during the May 24 flight.
The two FOC (Full Operational Capability) Galileo satellites were then removed, enabling their continued preparation and fueling. Prime contractor OHB System in Bremen, Germany produces the Galileo FOC spacecraft.
This Arianespace's mission with Soyuz, designated Flight VS15 in Arianespace's launcher family numbering system, will not be the last Galileo launch this year. Another Arianespace launch, using an Ariane 5 ES vehicle to loft four additional Galileo satellites is planned during the fourth quarter of this year. The six satellites deployed by Arianespace's two missions in 2016 will bring total spacecraft in the Galileo constellation to 18 by year-end.