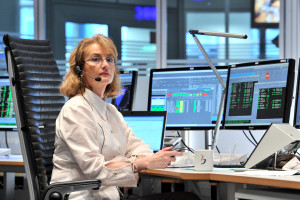 The launch campaign is complete, the systems and teams at ESOC are ready. At Europe's Spaceport, in Kourou, French Guyana, the satellite sits on top of its launcher, ready for the command that will send it soaring into space, watched intently by the experts at ESOC.
Ready to go to Space
With just hours to go before lift-off, the Mission Control Team at ESOC holds the final pre-launch briefing to review (one more time!) every detail of the mission plan.
At the briefing, team leaders and functional experts from the Mission Control Team are joined by the satellite's Project Team from ESTEC as well as representatives from the launch service provider (in addition to the Agency's own Spaceport at Kourou, ESA launches some satellites using commercial providers) and from the industrial contractor that built the satellite.
Just before launch, links between ESOC and the outside are again verified; telephone, voice intercom, data and even fax links to the Launch Control Centre and the ground tracking stations are tested.
Countdown begins
Finally, after years of preparation, the moment arrives when the clocks in the Main Control Room (MCR) start counting down the hours to the spectacular start of a new mission. Typically, the MCR timer begins ticking 12 hours before the planned lift-off.
At six to eight hours before "L0", the moment of lift-off and the start of the mission's life-time clock, the second shift of the Mission Control Team goes "on console" in the MCR, checking on the satellite's health (often, ESOC is still receiving live telemetry from the satellite secured on top of its launcher) and monitoring updates from the Launch Control Centre.
GO/NO-GO roll call
At about "L0-2" hours, the first shift of the Mission Control Team takes over in the MCR, and continues monitoring the satellite and count down progress. At this point, the team conducts a GO/NO-GO roll call via the "voice loop" intercom system; in the roll call, each engineer on console confirms to the Flight Operations Director their personal readiness for the upcoming events and that his or her specific systems both in the Mission Control System and on board the spacecraft remain ready for launch.
Once the internal ESOC roll call is complete, the Flight Director reports the centre's readiness via the voice loop to the Launch Control Centre. This confirms that ESOC is ready to assume control of the spacecraft just minutes after launch and insertion into orbit.
The team at ESOC are ready for "LEOP", the launch and early orbit phase, which means they are ready to assume control of the new spacecraft, working around the clock to activate crucial on-board systems and ensuring the spacecraft's health in the extreme environment of space.