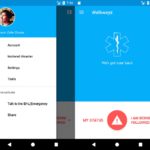 After Hackathon 2017, we contacted one of the winners: the "Midnight Coders" team, who developed "Safewayz" app. After exchanging several messages they showed us their interest to publish an article on their succesful application in our website. We thought it was interesting to share with all of you how the idea was conceived and is currently being developed.
By Angelica Ferrer*:
The primary purpose of the app is a safety app that lets someone send an emergency request for police, fire, or ambulance directly into their system bypassing human intervention saving critical minutes in emergency response. A secondary feature of the app is a crowd-sourced safety map that lets users tag/identify safety hazards and ultimately will draw on open source prime data and provide a safe foot path, allow people who are not necessarily driving to avoid trouble.
I had the idea for this app thinking about the safety of people when they need help, for example small children when they are in danger and do not speak or cannot speak, a recent example was the case of the 5-year-old girl in the United States that triggered the Emergency when she saw her mother lying on the ground and without knowing how to speak she opened the phone and triggered the emergency. In this case the emergency took longer to locate the place of the phone and send the rescue team, but in the end the little girl saved the life of her mother. The deaf could benefit from this service, people with inability to speak, or normal people facing an imminent danger for some type of problem that is present. I wanted to bring it to life at the 2017 Galileo Hackathon.
In general, users will have the ability to quickly report on an emergency at their location. This could be done in many ways:, or possibly a combination of different methods, while allowing the user to set their preference for each. Ideas on user actions:
Voice Action Service – A background service could be run to listen to a specific phrase in order to take action and report on the emergency.
Intercept Physical Button – We could listen for a specific button press (such as volume down) or a specific combination and take action to report on the emergency then.
In App Interaction – An action could be triggered within the application (such as a button press) if the user has the app open and ready to go. This could also be reversed with something like keeping your finger on the button, if you lift it for a specified amount of time, the app will take action to report on the emergency.
Waypoint Check-in – The user could input a destination, after which, waypoints could be generated. If the location is not tracked to those waypoints at specific time intervals, the app would know to take action and report an emergency.
Emergency data collected would include the location, and any other relevant user data. There are several potential options for how this data is handled and processed:
First Responder IT System Integration: Inject emergency data directly into first responder IT systems to immediately trigger respondse
First Responder/Call Center – Data could be sent back to an managed admin panel or some type of managed call center. From there, the user can be checked on, or the data forwarded to the appropriate emergency service.
Auto Calling – With a valid database of emergency contacts, the app could initiate a call to the nearest emergency service.
Nearby Users – Data can be sent to nearby users, either as a means of asking for help, or notifying to stay clear of the area.
In our Hackathon presentation, there was a lot of discussion regarding the last option and the potential for social interaction in communities. I hope this happens, that we stimulate people caring for one another and helping each other.
Another key feature would be the crowdsourced safety and travel information map, called "Safety Pins". The idea is that available safety data is collected and displayed to the user on a map. Some options are the use of open source, city wide data regarding overall safety statistics can be presented to the user in a type of heat map overlay. In addition, users will be able to tag specific locations with safety related data. This could be both negative or positive in nature, such as:
Police officers actively patrolling location.
Hazards that would impede travel.
Emergency incidents reported from other users (mentioned above).
Another idea is to automatically process data and collect more complex data such as safe routes collected from other users:
This would be an automatic aggregation of data and presented to the user when no incidents are reported
For example, within the last few hours 3 different users have travelled a specific route or locations tracked in a specific area without reporting any emergencies or negative safety concerns, so we can display this area as a 'green' safe zone to other users
Pins are expected to be dynamic
One user "thanks" another to establish trust in markers
A user can mark a pin as expired. If this is wrong, another user can remark it as active and debit the trust in the user who incorrectly expired the pin
Additionally, users will be able to create accounts and manage their profile. Users will need to have the ability to set preferences on notifications, location usage, and quick action responses for personal preference on privacy and optimization of battery usage We will collect various data pieces about each user, such as: Name, age, photo, location tracking preferences
We used the HyperTrack system for enterprise scale user/action/place tracking. Constructs such as HyperTrack actions, events, places, users were employed to rapidly create a fully featured app in the short time of the Hackathon.
I didn't know what to expect at the Hackathon, but I saw the announcement for it on Twitter and I thought it would be a good place to start my app. We had a plan for how to implement it, but we changed our approach after we learned about HyperTrack. I enjoyed meeting all the people, especially the staff from GSA, the judges from Airbus and Samsung, Professor Lukasz Bonenberg, Dr. Roland Wagner, and all the teams. I was impressed with all the different ideas, and I enjoyed the videos made by the teams, I thought that was a good challenge. I am very appreciative of the fact that the European Union thinks to sponsor this event and the European Satellite Navigation Competition to stimulate creativity and participation.
*Angelica Ferrer has a degree in law and runs a technological company. Owner of "Safewayz" app and part of "Midnight Coders" team.
Want to publish an article in our website? Contact us!