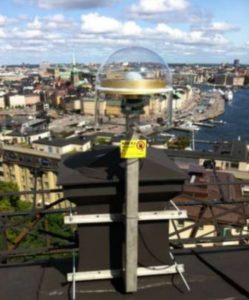 In an effort to promote the benefits of Galileo and the imminent declaration of Initial Services to the broader GNSS user community in Sweden, the Swedish Board of Radio Navigation (RNN) recently held a seminar in Stockholm with the participation of the European GNSS Agency (GSA). Entitled How can Galileo contribute to more cost-effective production applications in the PNT field?, the seminar provided an overview of how Sweden is preparing to implement Galileo signals into professional Positioning, Navigation and Time (PNT) applications.
The event brought together over 60 chipset and receiver manufacturers, government authorities and end users who discussed such topics as: the efforts and requirements for implementing Galileo into GNSS-equipment and Network Real Time Kinetic (RTK) platforms, testing and needs, status of Sweden's national GNSS infrastructure, and an overview of how Galileo is set to enhance PNT services in Sweden.
Infrastructure and Equipment are getting ready
According to a GNSS-user panel, there is an expectation that Galileo will:
Improve GNSS-measurements
Allow users to take measurements in environments with limited satellite visibility (i.e., in urban settings and dense tree cover)
Decrease uncertainty in a signal's position and time
The panel was comprised of local authorities from Malmö (Sweden's third largest city), forest administrators from Lidingö, Lantmäteriet (the Swedish Mapping Cadastral and Land Registration Authority), WSP Consultancy Group, the Swedish Maritime Administration, and marine surveying company Clinton Marin Survey and Time Applications.
The panel members expect that Galileo will improve their GNSS-measurements in environments with limited "satellite visibility" and decrease uncertainty in position and time determination. Panel members noted that additional field tests showing the benefits of implementing Galileo data and a list of Galileo-enabled equipment would be helpful to them as they make the transition towards Galileo. Here the GSA noted that numerous chipset and receiver manufacturers – including Leica, Topcon and Trimble – are already offering Galileo-enabled equipment, products and applications. In fact, according to the GSA's GNSS Market Report, almost 60% of all available receivers, chipsets and modules support a minimum of two GNSS constellations. Of these, nearly 40% are Galileo compatible – a figure that is increasing every day. As of December 2016, a full list of Galileo-enabled products, services and devices will be available at www.useGalileo.eu.
The Agency also noted that with the imminent declaration of Initial Services, the Galileo GNSS constellation will become operationally ready to offer its first range of services, including the Open Service, Public Regulated Service (PRS) and Search and Rescue Service (SAR). The Declaration of Galileo Initial Services is the first step towards full operational capability, which will occur when the Galileo constellation is complete in 2020. Between the Declaration of Galileo Initial Services and full operational capability, additional satellites will be added to the constellation, allowing new services to become available.
Positive Signs in Sweden
According to SWEPOS, the Swedish network of permanent reference stations has Galileo-compatible equipment on all of its 300 stations. The network is now only waiting for the manufacturer to provide a software upgrade so the system can handle Galileo data on its control side. On-going developments on the infrastructure required to use Galileo and EGNOS in professional applications were also reported by representatives of the Swedish Maritime Authority, Luftfartsverket Air Navigation Services and Lantmäteriet.
Likewise, Lantmäteriet and Chalmers University reported on their Galileo field-tests on the ability for GNSS equipment to process Galileo signals. According to the researchers, although the tests show that Galileo can already be used, additional testing is needed in order to demonstrate all the benefits of implementing Galileo capabilities.
Great Expectations
Many participants left noting that they look forward to a close cooperation between infrastructure providers, the user community, research institutes and equipment manufacturers for a cost-effect and smooth implementation of Galileo into professional GNSS applications in Sweden. And although with the launch of Galileo Initial Services comes great expectations from the end users, as can be seen from this seminar, Sweden is well on its way to meeting them.