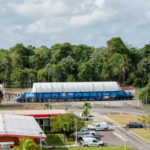 Elements for Arianespace's Ariane 5 mission in December have been delivered to the Spaceport in French Guiana for the heavy-lift launcher's second flight at the service of Galileo.
These components arrived on September in French Guiana aboard the MN Colibri, which is one of two sea-going roll-on/roll-off ships that transport launcher hardware from Europe to the South American launch site for Arianespace's family of launch vehicles.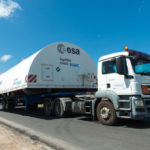 The year-end launch will orbit four more Galileo spacecraft, to be deployed into medium Earth orbit from a dispenser system on the Ariane 5 ES launcher version equipped with a re-ignitable upper stage. Galileo is designed to provide a new European global satellite navigation system with precision positioning services under civilian control.
A December liftoff for Ariane 5 and its Galileo satellites
Designated Flight VA240 in Arianespace's launcher family numbering system, the mission is targeted for December 12. As the latest mission carrying Galileo satellites, Flight VA240 is to be performed on behalf of the European Commission under a contract with the European Space Agency (ESA).